Downtown revitalization is a national trend impacting hundreds of cities across the U.S. right now, which is wonderful. But in the downtowns of a few special cities, the amount of new development under way and planned is so massive that you will literally not recognize these skylines in just a few short years. Without further adieu, here are 5 skylines that are undergoing massive transformations:
Austin
Denver
Los Angeles
Seattle
New York 
If you've gotten this far, you've noticed I included Austin as the #1 city on this list. And if you're a regular reader of this blog, you've also noticed that I talk a lot about Austin…In fact, almost every blog post includes at least some mention of Austin, and many are in some way focused on Austin…but to be fair, I only give Austin credit where it is earned. I wrote here about Austin's lack of a truly great public space.
Anyway, more about Austin's skyline in a minute.  I actually chose to write this blog because I visited Colorado recently on a family road trip that included a 3-day stay in Denver and then another 3-day jaunt into the mountains to Crested Butte. I came away completely impressed by Denver's downtown, and the transit system expansion – FasTracks – I've been reading about over the last several years. It had been over a decade since I'd spent any significant amount of time in Denver (I used to visit family in Denver each year as a kid)
1. Austin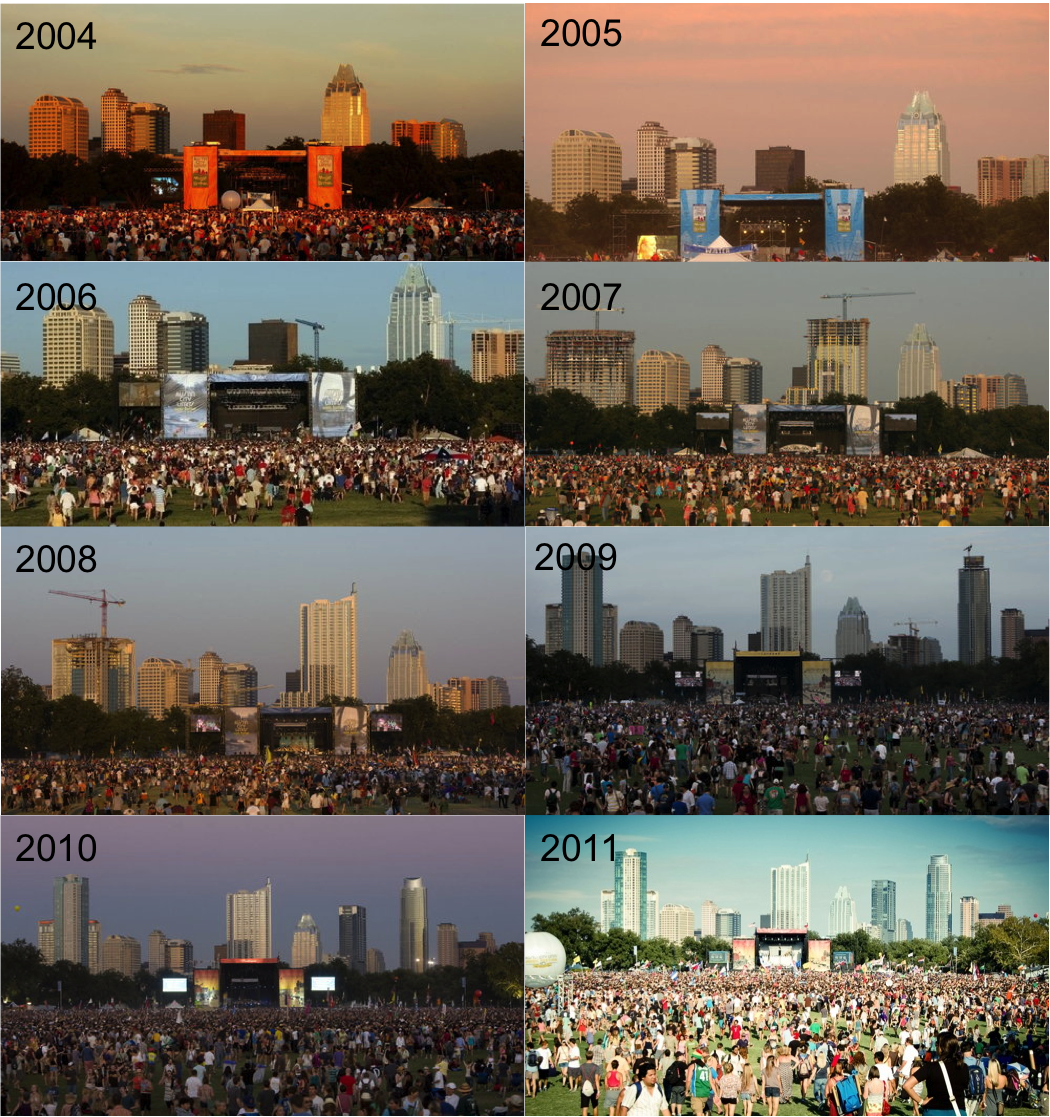 So, back to Austin now. You can just look at the photos above taken from a news article titled Austin's changing skyline during ACL to get a sense of the enormous change that has taken place in Austin's skyline over recent years. Or I can hit you with some insane stats…how about this one? Of the 8 tallest buildings in downtown Austin today, not a single one of them existed 10 years ago. Please, correct me if I'm wrong, but I don't think any other city in North America can say that. You'd probably have to go to Dubai to find a city whose skyline has changed more dramatically.
And the growth of Austin's skyline is continuing at a break-neck pace. If anything, the city's downtown development is accelerating. You can hardly go anywhere right now in Austin's central business district without being surrounded by construction activity.
It seems as though there are cranes hovering overhead no matter where you go in downtown Austin. And there is much more than meets the eye. There are plenty of additional high-rises and skyscrapers in the pipeline, soon to begin construction.
2. Denver
Downtown Denver is also in the midst of a major construction boom, largely driven by residential development. As of June 2014, June 2014 there were 29 developments under construction in downtown Denver and 18 more planned. These projects include: 1,513 hotel rooms 5,211 residential units, 2.5 million square feet of office space, and 222,000 square feet of retail space.
Why is downtown Denver's residential market booming so much? Well, urban housing is a growing trend in many major cities, but it's really growing rapidly in Denver…so what's different there? If I had to guess at the underlying cause, I'd say it is because of their regional transit system expansion.
The cool thing about building a comprehensive regional transit network – exactly what Denver is doing with its $8 billion FasTracks program that will bring 140 miles of light rail, commuter rail, and BRT to the region over the next several years – is that it opens up new options for commuting patterns.
Just like most modern metro areas, Denver's employment is dispersed across several major employment centers throughout the region. Downtown Denver is the biggest employment center, but there are several other areas with tens of thousands of jobs clustered together. And the new transit network is connecting downtown to many of these centers. So that allows workers to live downtown and commute elsewhere. When you create a comprehensive regional transit system, not only do you connect hundreds of thousands of residents to your region's major employment center – downtown – you also connect the center of your region many other major employment centers, creating new potential for housing in the urban core.
3. Los Angeles
Did you know that LA has the tallest building on the west coast, the U.S. Bank Tower, which is about to add an observation deck? And did you know that an even taller skyscraper, the Wilshire Grand is being built in downtown LA right now? Brigham Yen over at DTLA Rising has been chronicling the transformation of downtown LA for many years now. There's a lot more I could say about the massive changes taking place in LA's central business district, like the $30 billion dollar transit system expansion in Los Angeles County that is centered on downtown, but instead I'll just send you over to Brigham Yen's site one last time since he's the expert on downtown LA's urban renaissance.
4. Seattle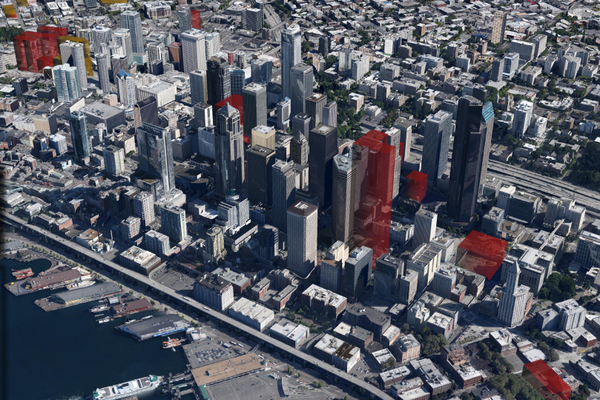 Downtown Seattle is exploding with new construction activity. Right now, there are 100 new development projects (50 under construction, 5 permitted, and 45 completed since 2013) in downtown Seattle representing $4.3 billion in new investment. This includes over 10,000 new residential units. The only reason Seattle isn't at the top of this list is that it already had quite an impressive skyline before the current wave of development. Austin, on the other hand, didn't really have a skyline to speak of just a handful of years ago, and now it's on its way to having one of the most impressive skylines in the U.S.
I recently co-wrote a blog post comparing Austin vs. Seattle over at the TIP Strategies blog with colleague Jeff Marcell. Jeff and I actually had a lot of fun comparing Austin to Seattle from an economic development perspective (I'd like to think that Austin won in this comparison, but the reality is that both cities are strikingly similar in their economic success). Jeff recently joined TIP (around the same time I did) as a Senior Partner. He was the CEO of the Seattle/King County Economic Development Council for 10 years, so he understands the massive development boom in downtown Seattle as good as anybody.  In fact, Jeff was recently featured in a Seattle Business Journal article titled How to spark downtown development. For more details on downtown Seattle's development explosion, check out the Downtown Seattle Association's website.
5. New York
Okay, so you're probably wondering why New York is on this list. It already has the largest and most iconic skyline in North America, arguably the world (although Dubai, Tokyo, Hong Kong, and Shanghai are in a similar category). So, how could it fit the title of this blog post? Is New York's skyline going to change that much in the next few years? Hard to believe, but that's exactly what is happening.
There's a whole slew of "supertall" towers under construction and planned in Midtown Manhattan. Check out this CityLab article from Kriston Capps that highlights the supertall skyscrapers being built and planned in Manhattan. Not to mention the new World Trade Center site that is adding 10 million square feet of office space in 6 new skyscrapers in Lower Manhattan. Yeah, I think it's safe to say that the already impressive NYC skyline is reinventing itself again.
The Last Word
If your city's skyline didn't make this list…and if you think it should have, I'd love to hear your thoughts in the comment section.  Thanks for reading!