The urbanSCALE rating system is currently focused only on the 100 largest cities in the U.S. (we had to start somewhere!) but I realize that there are many, many examples of vibrant urban places in smaller cities across the country.  This blog post is a tribute to small cities with unique urban amenities, attractions, or infrastructure that are not found in many cities that are much larger.
Boulder, CO

(2012 Pop. 101,808)

– Pearl Street Mall
Pedestrian-only streets have been attempted in downtown areas across the country, mostly in big cities.  And for every successful pedestrian mall, there are numerous failed pedestrian streets.  So, when a small city like Boulder pulls off a superb pedestrian-only street, it is quite impressive.  Boulder's Pearl Street Mall is a vibrant pedestrian corridor filled with shops, restaurants, apartments, and offices located in the heart of Boulder's downtown.
Eugene, OR

(2012 Pop. 157,986)

– EmX Bus Rapid Transit (BRT)
Eugene's EmX (Emerald Express) Bus Rapid Transit (BRT) line is widely considered one of the best examples of a successful BRT line in the U.S.  In fact, the ITDP (Institute for Transportation and Development Policy) ranked EmX among the top five BRT lines in the United States in 2013 (check out the global BRT line corridor rankings here).  Ridership along the EmX corridor has far exceeded expectations and transit-oriented development along the line has also yielded major returns on investment.
Bartlesville, OK

(2012 Pop. 36,245)

– Price Tower: Frank Lloyd Wright's Only Built Skyscraper
Frank Lloyd Wright, widely regarded as the most famous architect in history, designed hundreds of buildings.  However, only one skyscraper designed by Wright was ever built: the Price Tower in downtown Bartlesville, Oklahoma, a small city about 50 miles north of Tulsa.  The Price Tower reflects the unique character of Bartlesville's downtown, a downtown that is home to multiple high-rise buildings and several thousand jobs.  Conoco-Philips was headquartered in Bartlesville for many years and still retains a major corporate presence in the city's downtown.  Thanks to recent expansions by several large employers, downtown Bartlesville is currently undergoing a renaissance, with the addition of numerous restaurants, retailers, and new residences.
Kenosha, WI

(2012 Pop. 100,150)

– Streetcar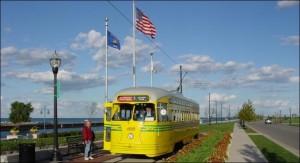 Kenosha's streetcar line, which opened in 2000, is the only rail transit line in the state of Wisconsin.  That's right…even Milwaukee and Madison, the state's two major urban centers do not have rail transit lines (although Milwaukee is currently in the planning/design phase of a downtown streetcar line).  The Kenosha streetcar connects the city's downtown to the waterfront of Lake Michigan.  Redevelopment has occurred along much of the corridor, with new retail space and hundreds of new apartments and condos.
Morgantown, WV

(2012 Pop. 31,000)

– PRT System
Morgantown's Personal Rapid Transit (PRT) system is truly unique for a small city.  In fact, it is the only PRT system in the United States operating today.  The PRT system was built in the 1970s as sort of a public/private experiment, funded by the federal government and built by Boeing.  Morgantown's PRT connects the city's downtown to the main campus of West Virginia University (WVU), and is primarily used by WVU students and staff.  Today, the PRT is an absolutely indispensable part of Morgantown's transportation network, carrying thousands of passengers in the self-propelled PRT cars on a typical fall or spring semester day.
Asheville, NC

(2012 Pop. 85,712)

– Biltmore Park Town Square
Biltmore Park Town Square is a high-quality new urbanist development that could be described as an "anti-mall".  Although the development sits at the edge of Asheville in what could be considered a suburban location, it successfully combines retail space, restaurants, offices, a hotel, apartments, townhomes, and condos in a compact, walkable setting.  These types of mixed-use developments are increasingly common in large metro areas, but are rarely found in smaller cities like Asheville.  Biltmore Park Town Square is a good example for smaller cities seeking to add new retail space while also enhancing their urban appeal.
Burlington, VT

(2012 Pop. 42,282)

– Church Street Marketplace
Like Boulder, Burlington has achieved incredible success with its downtown pedestrian-only street, Church Street.  Church Street is a walkable corridor lined with dozens of shops and restaurants packed into an appealing urban setting.  In some ways, Burlington's Church Street Marketplace is even more notable than Boulder's Pearl Street: Burlington's population is less than half the size of Boulder's population, and Burlington is not part of a larger urban region (Boulder is right next door to the 2.6 million-resident Denver metro area).  Although, one advantage Burlington has compared to Boulder is its access to a very large population within a one-day drive (over 45 million people live within a 300-mile radius of Burlington compared to only 6 million within a 300-mile radius for Boulder).
Green Bay, WI

(2012 City Pop. 104,868)

– The Green Bay Packers
Anyone that knows a thing or two about economic development understands that professional sports teams are often a losing proposition for communities in the quest to improve their economy.  This is because it is common for cities to spend hundreds of millions in tax dollars for stadiums or arenas to attract or retain a major league sports team (usually the "big four" sports: NFL, NBA, MLB, and NHL, but also increasingly for the MLS), with the hopes of spurring development adjacent to the sports facilities.  The case of the Green Bay Packers is truly unique in the sports world.  The Packers are the only non-profit, community-owned team in the NFL.  This is the main reason why they have never left Green Bay and remain in such a small market by NFL standards.  The average population of an NFL metro area is 4,597,500, about 15 times bigger than the Green Bay metro area.  In fact, there are no other NFL markets with a population under 1,000,000.  Buffalo, the second smallest NFL market has a regional population of 1,134,210.  When it comes to major league sports, Green Bay is in a league of its own.
Santa Fe, NM

(2012 Pop. 69,204)

– World-Class Museums
Santa Fe is well known for its arts and culture.  In fact, Santa Fe is ranked in fourth place in Travel + Leisure's 2012 America's Favorite Cities for Museums and Galleries.  A quick glance at the Top 10 list says it all:
1) Washington, D.C.; 2) New York, NY; 3) Chicago, IL; 4) Santa Fe, NM; 5) Philadelphia, PA; 6) Boston, MA; 7) Kansas City, MO; 8) Minneapolis/St. Paul, MN; 9) San Francisco, CA; 10) Nashville, TN
I haven't done the math, but I'd be willing to bet that Santa Fe has more museums per capita than any city in the world.
Midland, TX

(2012 Pop. 119,385)

– Energy Tower at City Center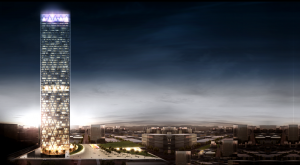 At first glance, the proposed 56-story mixed-use Energy Tower might seem like a far-fetched pipe dream to outside observers.  As planned, it will contain more than 1,000,000 square feet of space including: 555,000 square feet of Class A office space, 132 luxury residential units, a five-star 200-room hotel, 67,000 square feet of retail and restaurants, a sky restaurant/bar, conference space, and a new public plaza with a 400-seat amphitheater.  When completed, it will be the tallest building in Texas outside of Dallas and Houston.  That's right.  Midland will have a building taller than any building in Austin, San Antonio, or Fort Worth.  And this thing is for real.  In my previous role as an economic development consultant I played a minor role in this project and was afforded the opportunity to meet with the entire development team, which includes world-class investors, architects, and commercial real estate experts.  The Energy Tower is no doubt a bold, unprecedented development for Midland.  But, the funny thing is that it actually makes perfect market sense because of the ongoing rapid economic and population growth due to the booming energy sector.  The current West Texas oil boom has created a situation where the Midland office market and residential market are basically at 100% occupancy levels and there is a real need for new buildings.
What have I missed?  What are your favorite small-city urban amenities?  I'd love to hear your thoughts!